We have the tools to build more than just successful projects, join Foresight in our Give Back Backpack Drive to help give kids the tools they need for a successful school year!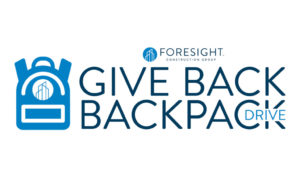 From July 16 – August 3, bring your "tools for school" to any Foresight office location in Gainesville, Jacksonville or Tampa. All donations will be given to a local Boys & Girls Club to support their 2018 Back-2-School Supply Drive.
From pencils to backpacks, any donation is appreciated. We're excited to give back to the communities we serve and provide the tools necessary to do so!
Click here for a wish list of supplies needed. For any questions, please contact our Marketing team at 352-335-6352.